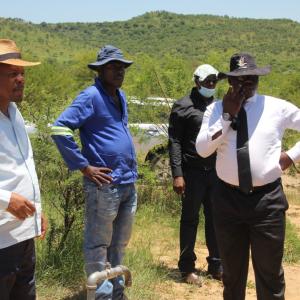 03 February 2022
Media Statement
03 February 2022
DISTRICT MAYOR VISITS LIMEHILL COMPLEX TO RESOLVE WATER CHALLENGES
Uthukela District Municipality persists in improving the quality of life and aims to provide sustainable and effective water and sanitation related services as a solution to the communities it serves. Uthukela District Mayor Inkosi NB Shabalala and Chairperson for Water, Sanitation and Technical Services Cllr MM Khoza together with Ward Councillors and administrative team visited Intshele, Komane, Fitty Park and surrounding areas under Alfred Duma Local Municipality.
The aim of the visit was to address the community complaints regarding water issues and provide solutions to their concerns. The Ntshele community members and sorrounding areas are concerned about water shortages in the area. The Hounarable Mayor Shabalala told those who've gathered on site that as Uthukela District they are mandated to make sure that communities, in particular in the rural areas, have access to clean water.
The Mayor also suggested that while still waiting for Fitty Park project and upgrading of Tugela Estate to be completed will use solar panels as a temporary solution to assist the community.
Mr B Mnguni, General Manager Water Services said that there are projects in the pipeline to supply water but while they are waiting they will use temporary structures as suggested by the Mayor as cost effective and temporal solution. Councillors appreciated the efforts by the Uthukela District Municipality saying the situation is dire where you find that one borehole is drying up in winter time.
Uthukela District Municipality understands the water challenges faced by this community as Cllr Khoza assured the Councillors that there is something that's being done to help deal with water shortages in the area. He further committed to make means of sending water tankers while the team of technicians is busy working on fixing and upgrading water infrastructure.
During midday the Mayor and his team held a meeting with Councillors at Indaka Council Chamber and were joined by Alfred Duma Local Municipality Deputy Mayor Cllr S Simelane to further discuss water shortages and solutions to supply clean portable water to the communities. "With effect from today, we are putting into motion a programme of action that will take us towards a permanent resolution of the water challenges," said Mayor Inkosi Shabalala.
He further mentioned that they took the resolution to stop using hired water tankering as the District don't have enough money to pay them as they are costly. Uthukela District have 32 waters tankers of which 16 of them are not functional. Ward Councillors appreciated the meeting with the Mayor and his team and hoped that the issue of water in their areas will be resolved.
-ends
Issued by: Sindi Mvelase and Sindi Buthelezi
Photography: Sakhile Kunene
Uthukela District Municipality
Cell: 072 175 5650