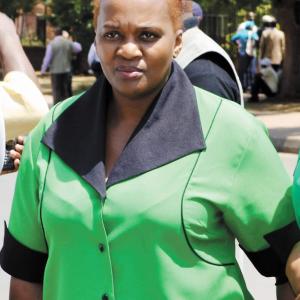 08 October 2018
Newly sworn in as the Speaker of uThukela District Municipality Cllr Phindile G Strydom holds one of the most important positions. Former Speaker Cllr DCP Mazibuko resigned about a month and cut ties as being politically involved as a leader. However, she stressed her loyalty to the ANC and emphasised the fact that her role would be more behind the scenes.
55 year old Cllr Strydom hails from the Bergville area where she started her schooling at Bethany Primary School. She completed her matric at Mtshezi High School in Estcourt. Cllr Strydom then furthered her studies at Appelsbosch College of Education to become a qualified teacher, as well as obtaining obtaining her BED Hon (Inclusive Education) from UNISA.
She was sworn in from 2000 to 2006 as ANC Ward Councillor at KwaBhekuzulu at Inkosi Langalibalele Sub Region which was known as Imbabazane by then at ward 11. From 2006 to 2011, Strydom was an ANC PR Councillor at the same municipality and served as an EXCO Member. In the time period 2011 to 2016, she was the ANC PR Councillor at the same municipality serving as a Mayor. In 2016 after the amalgamation of the two Municipalities, Imbabazane and Umtshezi, she served on the newly established Inkosi Langalibalele municipality as an EXCO member.
Strydom continued her studied at Wits and obtained her CPMD (Certificate programme in Management Development for Municipal Finance — Advance) — Municipal Finance. Cllr Strydom served in the ANC structures since 1995, served in the branch both mother body & the Women's League. She served in the REC and in different committees of the ANC. She is presently serving as the Regional Chairperson of the ANC Women's Leagues.
Cllr Strydom was recently sworn in as the Speaker of uThukela District Municipality following the resignation of former Speaker Cllr DCP Mazibuko who has taken up a new CEO position at uThukela District Development Agency. We wish the current and former Speaker well in their respective positions.