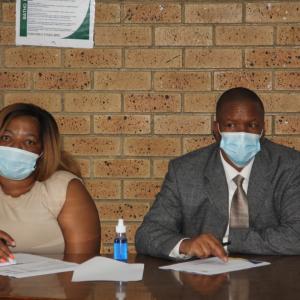 27 January 2022
NEW DISTRICT LEADERSHIP MEETS SAPS STAKEHOLDERS
Description:
Media Statement
27 January 2022
NEW UTHUKELA DISTRICT LEADERSHIP MEETS SAPS STAKEHOLDERS
The Honourable Mayor of Uthukela District, Cllr Inkosi NB Shabalala, accompanied by EXCO Members Cllr M Khoza, Cllr N Mchunu, Alfred Duma Cllr Warasally and the Manager Office of the Mayor Mr SO Mnguni had a meet-and-greet engagement with Uthukela District SAPS today at the Department of Public Works offices in Ladysmith.
Uthukela District SAPS office is based in Ladysmith and is currently housed at Ladysmith police station. About 16 police stations fall under the Uthukela District. They comprised of three stock theft investigation units(STES), two Family Violenceolence, Child Protection and Sexual Offences Units ( FCS), one vehicle crime investigation unit ( VCIU), one K9 unit, one police garage, one TRT unit, and one LCRC.
In her opening remarks, Acting Uthukela District Commissioner Brigadier Francis Bantham stated that the main purpose of the meeting was for the SAPS members to meet the newly elected Mayor and his executive committee. Brigadier Bantham perceived that there was the need to meet with the newly elected Leadership of Uthukela District Municipality as the SAPS is one of the most important stakeholders to keep the public safe and protected. She appreciated the Mayor for affording her team this opportunity to meet.
"The SAPS plays one of the vital roles within the society which is ensuring the safety of all South African citizens, for that specific reason it is imperative for the SAPS to have a good working relationship with the district leadership," said Brigadier Bantham. She gave a detailed description of the SAPS structure and its profile where she also introduced the station commanders who serve under the 16 police stations that fall under the Uthukela District.
"Being here is important to me and I appreciate this meeting with SAPS and we are prepared to have a good working relationship and protect you as well as. We are mandated to protect our communities.The involment of leardershiph and police is vital to maintain peace and stability in our communities", said Mayor Shabalala.
The Mayor outlined the core function of Uthukela District Municipality which is to provide clean and portable water as well as sanitation to the community of Uthukela District thus our duty to make sure that even police stations are supplied with clean water. He said that if there is any police station in this district that is without water they must inform them as we they are committed in providing quality service delivery.
"I must mention that I'm impressed with the work done by SAPS in keeping our town safe. As the leadership of this town I must put it into record that we are more than prepared to work jointly with members of the SAPS meaning our doors shall remain open at all times.
We are your people and you are ours, if we can maintain that relationship we can take Ladysmith to greater heights", he concluded.
Brigadier Banthama mentioned the challenges impacting on policing such as not having CCTV cameras in hotspot areas, densely populated areas, poor infrastructure (roads and communication network) , no proper lifting in hotspot areas and the challenge of environmental design.
-ends
Issued by: Communications Unit
Uthukela District Municipality
Cell: 072 175 5650