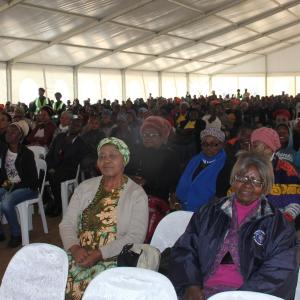 06 December 2017
No matter how little or how much money a person has, spending it wisely is a good idea as it enables one to get the most bang for their buck. These were the words uttered by the MEC for Economic Development, Tourism and Environmental Affairs (EDTEA), Hon Sihle Zikalala, during the Spend Wisely campaign held at Depot Sports Ground in Uitval. The purpose of the event was to encourage people to apply their mind when buying merchandises.
Accompanying the MEC were uThukela District Mayor Cllr AS Mazibuko, Alfred Duma Mayor Cllr MV Madlala, Cllr Nkabinde and Inkosi Sithole. The event started early in the morning whereby the MEC held a briefing session with stakeholders and local leadership at the Alfred Duma municipal offices in Ekuvukeni. The second leg was a walk-about at the Uitval Shopping Mall where the MEC and Mayors mingled with the shoppers advising them to spend money wisely.
Immediately after the walk-about, they all moved to the venue where the main event was scheduled to take place. In his welcome remarks, Cllr Mazibuko urged people to desist from buying items they want but only buy what they need. He then reminded people that we are in a very critical period of the 16 Days of Activism for No Violence Against Women and Children.
Let us protect those who are vulnerable and to ensure a safer society. We can prevent violence against women by giving support to survivors of abuse and bring perpetrators to book. Through our collective efforts we can create greater awareness, reduce the number of sexual offences and attacks on women and children, said Cllr Mazibuko.
He went on to state that men have the power to put an end to abuse, assault, rape and domestic violence against women and children. He then called on responsible father figures to instil the values of human dignity, equality and respect in young men. Delivering his keynote address, the MEC for EDTEA told the audience it was important to save for tomorrow. He said that during festive season people tend to spend a lot of money without consideration.
Just a few weeks ago we had a Black Friday period whereby many people spent a lot of money on things they did not even need. During festive season people buy groceries, garments, liquor and some even cars because they are being misled and influenced by these marketing gimmicks, explained Mr Zikalala. He said people are therefore tempted to waste money and then comes January when schools re-open then they struggle financially, borrow from the loan sharks. Vote of thanks was given by Cllr Madlala.