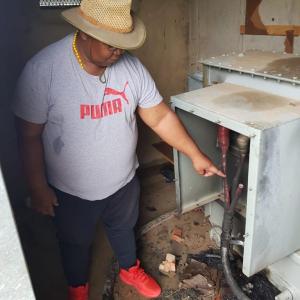 23 March 2020
For the past three months the uThukela District Municipality has had several sewer pump stations being damaged and vandalised in Steadville, Ladysmith and Colenso areas. All the stations have been stripped off electrical cables for copper, cabling and motors. In Steadville, brand new pump station is still under refurbishment by Watersol after electrical cables were cut and removed. Currently the sewer pump station is not pumping at all.
Again, a newly refurbished station in Steadville has been subjected to cable theft and severe vandalism. This happened even before Alfred Duma municipality could connect electricity. The pump station has been damaged too and all electrical cables have been cut and removed rendering the station non-functional. The Amarula sewer pump station in Acaciavale has also suffered vandalism where all electrical equipment were damaged.
Four Colenso sewer pumps were vandalised and electrical panels and cabling damaged. This act of vandalism and theft has crippled the working order of our stations. We also had more damages at Leonardsville sewer pump station. This station has been vandalised for the 10th time now. The damages are far more than a million rand. We have since reported the matter to the Ladysmith police station for investigation, commented District Mayor Cllr AS Mazibuko.
All the pump stations showed terrible signs of forced entry as they are kept locked all the times. All the above incidents have been reported to the police and case numbers obtained. This act of vandalism is crippling service delivery. It is also tantamount to treason as such tactics are generally employed by saboteurs to unseat the government of the day. We call upon the public to assist us to curb this act and help to bring perpetrators to justice by reporting any acts of vandalism to the police.