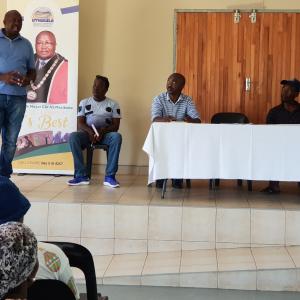 22 March 2019
The Thuma Mina campaign took off and headed to KwaVala, Phasiwe and Wembezi areas under Inkosi Langalibalele municipality on Wednesday March 20 to address service delivery challenges. The Speaker Cllr PG Strydom led the team comprising the Ward Cllr Mgaga and officials who went to KwaVala to tackle specifically the issues of water and sanitation.
Speaking to the community Cllr Strydom informed them that as Uthukela District Municipality they have made an assessment with regards to water provision in the area. Ponds were also inspected and were found to be silted. The Speaker said that excavators will be used to remove the silt from the ponds to increase capacity. They will therefore get water supply from the ponds and be connected to the water works from Gorton.
The Speaker also mentioned that the team found that most hand pumps in the area were reportedly broken but they have now been fixed. She emphasised that Uthukela District has to take care of 74 wards across the district. The community was pleased that Uthukela District has visited them to give feedback on progress made. They raised concerns about water leaks and disaster management.
By midday the Thuma Mina team headed to Phasiwe area to continue with its community engagement meetings. This time the team was led by Uthukela Chief Whip Cllr S Dlungwane, Ward Cllr S Mdakane, traditional leadership and officials who went there to tackle water issues affecting this community.
Addressing to the community Cllr Dlungwane said he was here to engage with the community on issues relating to water, sanitation, disaster management and economic development. He said due to climate change disaster are happening now and again.
Cllr Dlungwane emphasised that the municipality is committed to providing decent and hygienic sanitation facilities to all to restore human dignity. On water provision he said the municipality supply water to community through the means of piped water, boreholes, protected springs and water tankers as emergency response.
Our last Thuma Mina activity of the day was held in Wembezi Township later in the afternoon. The team which was led by Uthukela Chief Whip Cllr S Dlungwane, Ward Cllr B Dladla and officials went there to introduce the service providers to construct water project. The contractors will be upgrading the bulk water rising main from George Cross right up to the Wembezi and Ntabamhlophe areas.
The contractors introduced was SBT & Yaluza JV. The duration of the project is 36 months funded by WSIG. Over R77 million have been injected into the project and is expected to take up to 36 months to complete. More than 20 job opportunities are expected to be created per phase. According to the Chief Whip the project will run in phases till its completion. He said poor revenue collection negatively affects proper service delivery.