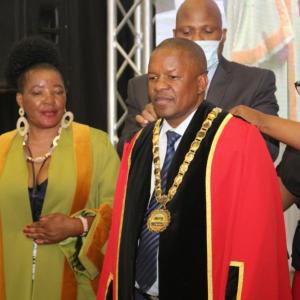 22 December 2021
Media Statement
22 December 2021
UTHUKELA DISTRICT INAUGURATES ITS COUNCIL
At long last, the UThukela District Municipality finally inaugurated its council during the ceremony that was held today in Ladysmith Sport Complex. Having to move on with day-to-day proceedings in light of challenges presented by COVID-19 pandemic which adds immense pressure to the community at large, the event went on smoothly. Selflessness of the same has afforded everyone an opportunity to have leadership of their choice. It is through this juncture that the long awaited process of inauguration that will hopefully bear the results of uninterrupted service delivery to the people prevails.
In his opening remarks, the Municipal Manager of uThukela District Municipality Mr MM Sithole applauded the outgoing council who had put the community needs first, and served the same with respect and dignity. On that note he further requested the Honorable Magistrate Mr SMK Mathebula to have all Councillors and traditional leaders sworn in under oath on declaration that they will serve community as per Constitutional provision.
As per section 36 of the Municipal Structures Act, the process of nominating the Speaker went through and Cllr Thembelihle Nqubuka from the IFP was elected as the Speaker having defeated her contender from the NPA. She then took over the baton of being the chairperson from the MM and proceeded as expected. Through the proceedings, Cllr Ntandoyenkosi Shabalala from the IFP was officially sworn in as the mayor. He managed to secure the most votes in the council after he was nominated for mayor with the ANC nominating their own candidates for the job as well.Cllr Mbongeni Shange from the EFF was then elected as the deputy mayor unopposed.
With the mayoral chain hanging around his neck, the newly elected Mayor Cllr Shabalala said he did not have enough faith that the people still trusted the IFP to lead the UThukela District Municipality. "We will not focus on what the previous administration did but to cast our attention on the road ahead. We have a responsibility to display our empathy to the hopeless and poor people in our district. Change is inevitable, good leaders are those who take right decisions. People out there can no longer wait for the visible change but we must be the change they want", said Mayor Shabalala.
The mayor went on to say it is their political will to root out the rot but said they cannot do it alone, it is a collective effort. He also invited the opposition parties to play a meaningful role in the development of the community, and also warned officials to stay on their lanes and leave politicians to do their job. Mayor Shabalala told the house that their core mandate as the district municipality is to provide clean water and hygienic sanitation. He then wished the community around UThukela District a Merry Christmas and Prosperous New Year.
-ends
Issued by: Communications Unit
UThukela District Municipality
Cell: 072 175 5650