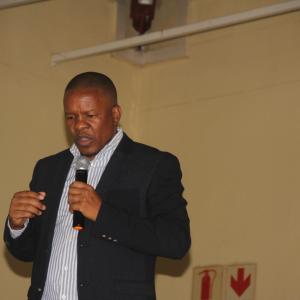 10 February 2022
Media Statement
10 February 2022
UTHUKELA DISTRICT KICK-STARTS THE 2022/2023 IDP BUDGET PUBLIC CONSULTATIONS
The UThukela District has embarked on the 2022/2023 IDP need analysis and public consultation roadshows. This comes as the District Mayor Cllr Inkosi NB Shabalala who was accompanied by Deputy Mayor Cllr MH Shange, Chairperson for Infrastructure Portfolio Cllr MM Khoza, Traditional Leaders Inkosi Kunene, Inkosi Nxumalo, Councillors and Administration team kick-started a very successful public consultation today at Ekuvukeni community hall under Alfred Duma Local Municipality.
The purpose of these consultation meetings was to do a community need analysis so that by the time the municipality prepares the budget it will then factor in all those needs identified by the community for the five year term and also to ensure all interested and affected communities make comments and inputs to the municipal budget. The IDP is a strategic planning instrument that guides and informs all planning and developments, and all decisions regarding to planning in the municipality for five years.
The Mayor clarified and explained the core function of uthukela district municipality is the provision of water, sanitation and disaster management.' "Our task is to make sure that all households in the district have proper functioning water and sanitation infrastructure. This is not a meeting where we came to tell you what we have done as the leadership, but we are here to listen to your needs as the community as we are a newly elected Council in the office", said the Mayor.
The Mayor went on saying that one can never resolve a problem if the same formula that has proven beyond reasonable doubt to have failed is still utilized. He said they have come to realize that hiring of water tankers instead of buying or repairing our own will serve the dissatisfied community. "We are also undergoing some investigations that will reveal if there was any acts of misconduct within uThukela staff that put our municipality in jeopardy. Within this short period of time in the office, one has noticed that uThukela District is in a dire state and I would like to encourage community to work hand in hand with us in order to remedy the situation", Mayor Shabalala elaborated.
He also said as much as he understands that the community has lost patience in getting what is due to them but he discourage protests as they do more harm than good. Instead Councillors should be an active link between municipality and community for any queries that need attention. He then urged the community to trust the new leadership and work together with them to bring about service delivery. Cllr MM Khoza further elaborated on projects that are on pipeline and those that are implemented by his portfolio. The Deputy Mayor, Cllr Shange thanked the community for leaving their daily chores and dedicated their time in lending an ear on what the Mayor had come to discuss with them.
The issues raised by the community were captured for the purpose of making amendments to the budget in order to ensure the needs of the community are met. This was the first round of the IDP consultation process. With this initiative uThukela District is trying to improve communication lines between municipality and the community so that both parties clearly understand what is going on in terms of budget allocation according to the community needs.
-ends
Issued by: Communications Unit
Uthukela District Municipality
Cell: 072 175 5650