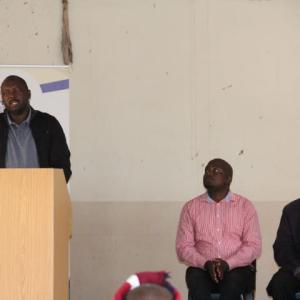 17 April 2019
UThukela District Municipality reached out to the communities on the Draft IDP Budget 2019/20 through public engagement conducted today. Two roadshows were held at ward 28 KwaShuzi and ward 25 Ntokozweni Community Hall in Colenso under Alfred Duma Local Municipality on Wednesday. The district municipality invited all the members of the public and Traditional Leaders to take part to the draft IDP and Budget process for the 2019/20.
The Chief Whip Cllr S Dlungwane, Speaker Cllr PG Strydom, Alfred Duma local municipality Deputy Mayor Cllr Thuli Hadebe and administrative team embarked on these meetings to table the draft IDP and Budget. The purpose of the roadshows was to present the 2019/20 draft IDP and Budget and to inform the public about the municipality's achievements and projects that have been implemented in the previous financial years.
These public meetings process are mandated by the Local Government Systems Act and calls for municipalities to encourage and create conditions for the local community to participate in the affairs of the municipality. The roadshows therefore serve as the forum of engaging and listening to the views of the communities in order to implement the budget accordingly.
It is no secret that the municipality's financial state is not all that good but we have put together plans and strategies to help improve the situation. This is in line with the municipality's initiative in encouraging public participation in the municipality's budget allocations and to promote transparency said Cllr Dlungwane.
At ward 28 KwaShuzi, Cllr Dlungwane assured the community that the contractor will be introduced to continue phase 2 Fitty Park that will assist in water supply to the community and also fixing and drilling new boreholes in the area.
It is our mandate that we provide people with dignified basic services through infrastructure, water & sanitation, said the Speaker.
Cllr Strydom informed the community that the district is faced with challenges of ageing infrastructure. R 3 million was allocated to refurbish bulk water supply at Colenco to assist the community with the challenges of water supply.
The outcomes of the consultative process from the community will be factored into both the operational and capital budget. On these roadshows the Councillors assured the communities that all citizens will have access to adequate safe water and hygienic sanitation and an upgrade to ageing water and sanitation infrastructure across the district.