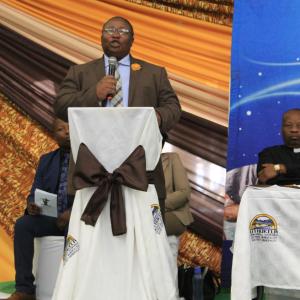 18 October 2017
UThukela District Municipality in partnership with the Department of Education organised a mass matric examination prayer that was held at the Indoor Sports Centre on Wednesday. The prayer was aimed at bringing matriculants closer to God as examination time is just around the corner. Schools from all three local municipalities were bussed in to attend this important sermon.
The district municipality has organised these kinds of prayers for the past few years now. During these events we have observed the spirit of oneness amongst schools, learners and educators. Prayers like these are normally held at the beginning of the year as well as towards the end of the year.
Speaking at the event, UThukela District Mayor Cllr AS Mazibuko told the audience that it is important that the society placed more value on education. Education is a pillar of our life as a society, and without education we are nothing, said the Mayor. He made reference to Emnambithi Primary School in Steadville as one of the oldest schools in the district yet people tend to undermine such schools with such a rich history.
The Mayor also encouraged people who can afford to invest in schools and always extend a helping hand to those who cannot afford. He acknowledged challenges faced by educators in schools on a daily basis. We understand the challenges and frustrations that are associated with the work of educators. We must thus thank them for their efforts in educating our nation in spite of all challenges, the Mayor added.
He went on to say educators are doing a lot of work yet they are less appreciated. He said the society need to change its attitude towards educators and not make family problems be an added educators' responsibility. Cllr Mazibuko then pleaded with the learners to respect and listen to their teachers so they can achieve their goals in life. He said exam is the time to test how much knowledge has the learner acquired throughout the year. He then wished them well in their exams.
After all was said, Servants of God, Pastor JD Shabalala and Pastor G Nzama brought everyone back to the essence of the day, which was the Word of God and Prayers. They also requested that parents to pray for the children during this crucial period.