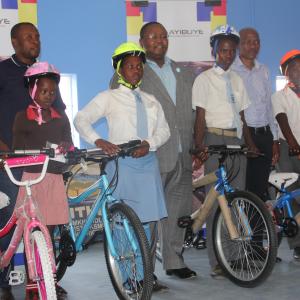 13 September 2017
UThukela District Mayor Cllr AS Mazibuko accompanied by EXCO Member Cllr MV Khumalo in conjunction with Mayibuye Construction, on Monday, visited Emangweni area to handover 100 bicycles to two rural schools, Mandlakhe High and Emlilweni Primary. This initiative was done as Mayibuye's Corporate Social Investment (CSI) programme aiming to uplift the community it conduct business with through the request by the Mayor.
A Traditional Court, located close to the beneficiary schools, was chosen for the handing over of the bicycles. Mayibuye coordinated the fundraising and implementation of this initiative, assisted by other volunteer staff members, who also attended the launch. Also invited were the district municipality officials together with representatives from the Traditional leadership, teachers, parents and the community at large.
Inspector Nkabinde from the Zwelisha Circuit said this initiative will help school children who travel long distances to schools. He went on to say the policy of the Department of Education clearly says that a child must not travel more than a 3 kilometre distance to school. I am happy today that you are here to assist our learners and parents. Our district is very wide but the Mayor tries his best to reach all corners bringing services to the people said Inspector Nkabinde.
The District Mayor Cllr Mazibuko told the audience that scholar transport involves the Departments of Education and Transport. He said as the district municipality they have consulted many stakeholders with a view to assist learners to get to school and fortunately they have succeeded. In distributing these bicycles, our aim is to encourage school attendance amongst learners who have to travel long distances, some more than an hour, to get to school said the Mayor.
It was emphasised that the bicycles are meant for utilisation only by the learners. These bicycles come with the helmets and pumps for each and will remain as the school property. Sanitary towels were also distributed to female learners. The Mayor then informed learners about bursaries offered by uThukela District aiming to assist them to further their tertiary education. He encouraged them to apply early in order to be considered.