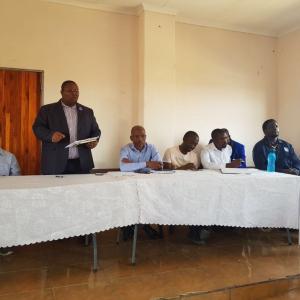 05 September 2017
The UThukela District Municipality Mayor Cllr AS Mazibuko and EXCO Member Cllr MV Khumalo accompanied by Inkosi Langalibalele Municipality Mayor Cllr Jabu Mbhele and councillors introduced the contractors to install water pipes in KwaDlamini, KwaNdaba, Bhekuzulu and Phangweni areas outside Estcourt. This was done in an attempt to tackle water scarcity in these areas which has been going on for quite some time.
In her remarks, Cllr Mbhele told the audience as local government they go every corner to identify community needs so that they will have a clear understanding what the community wants. Today we are here to bring development in the form of water provision. We work together with relevant departments to bring basic services to the people Cllr Mbhele informed the community.
EXCO Member Cllr Khumalo then urged the community to work together with the contractor so that the project can go well without glitches. He informed the audience that a lot of money has been pumped into the projects happening at Inkosi Langalibalele than in any other municipality in the district. We are here to introduce the contractor who will be constructing the communal stand pipes in these areas. The scheme is therefore designed to feed a certain number of households and not suitable for house connections, said Cllr Khumalo.
R&D Construction was introduced to the community as the service provider who will carry out the project. The source of funding is coming from the Municipal Infrastructure Grant (MIG). The project is envisaged to create about 15 temporary jobs for the locals. It is also expected to take up to 10 months to complete. An amount of over R 18 million has been allocated for the project. About 266 households will benefit from the project in these areas.
The next day it was the District Mayor Cllr AS Mazibuko who handed over the contractors to the communities of KwaBhekuzulu and Phangweni. The projects are funded by Water & Sanitation Infrastructure Grant (WSIG). In KwaBhekuzulu about 40 job opportunities will be created and the project will take up to 15 months to complete. Over R 13 million has been allocated and approximately 1071 households will benefit.
In Phangweni area the project is expected to create 80 job opportunities and will take up to 18 months to complete. Over R 25 million has been allocated and about 673 households will benefit. The Mayor then advised people who want to become sub-contractors to register with uThukela District Municipality database so that it will be easy for them to get through. He also informed them about trainings offered by the Local Economic Development unit to equip small business with vital skills.
Cllr Khumalo warned the community members against illegal water connections as this hinders progress and development in terms of effective service delivery. He said illegal connections is against the law and those who are engaged in such malpractice will face the consequences for their actions.